Healthy eating is a key component to good health
Many studies show that eating habits adopted at a young age tend to persist into adulthood. Therefore, we put significant emphasis on providing students with a wide range of nutritious and delectable options. Western is proud to operate its own eateries and residence dining halls within Hospitality Services. With a campus meal plan or residence meal plan, you have a lot of food options during your time studying, working or simply visiting the campus. For students that are away from home for the first time, consider this an opportunity to try new foods that you are not used to eating at home and explore new dishes.
Image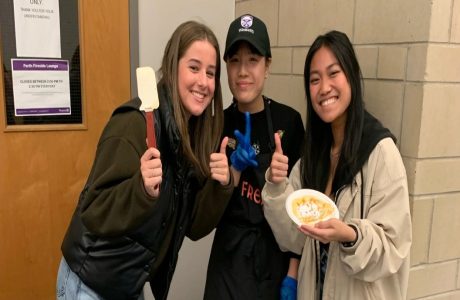 FRESH, Food Resources and Education for Student Health, is a partnership between Hospitality Services and Brescia University College developed by graduate students enrolled in the Masters of Food and Nutritional Sciences program at Brescia. It is a comprehensive peer nutrition education program created by and for university students, with the goal to increase awareness, improve knowledge, build skills, and influence the campus food environment.
Image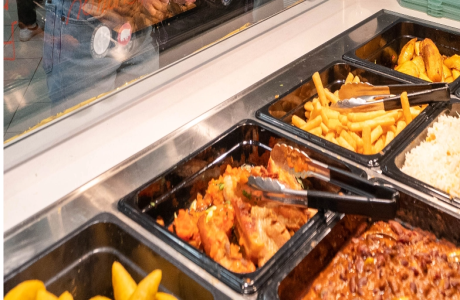 Students living in residence have a vast variety of foods available to them, prepared by our in-house chef team. The menu operates on a multi-week cycle providing varied culinary options. Students can make daily selections from a soup/chili, deli, yogurt/parfait or fruit/salad bar. Interactive cooking and a carvery station are also featured during several dinners throughout the week. Grab-and-go options are available for students with busy schedules.
At Western, we have developed a variety of dietary and allergen icons to assist students in easily identifying foods that best suit their dietary needs. These symbols are present around campus eateries and in residence dining halls. We advise students with severe allergies to follow up with a culinary team member when making food selections.
You can find allergen icons on our Food Allergies page and dietary icons on our Special Diets page.
Dietary needs management is a shared responsibility. 
We have accommodated countless students with allergies, intolerances and special diets. Although we are not an allergen- or gluten-free facility, we utilize best practice standards to ensure that we do all that we can to make your food experience safe and enjoyable. This document outlines the responsibilities of the student and the University.
The move from home to a post-secondary setting often presents a challenging transition for students. For many, it means living away from home for the first time, meeting many new people, eating in residence or on campus, and navigating new systems in communities with student populations considerably larger than their high schools. Students with food allergies have the responsibility of managing their dietary needs when eating on campus. It is strongly advised that you self-identify by:
Getting in touch with Nutrition Services for information or to schedule a meeting with our Registered Dietitian, Tegwyn. 
Ask before you eat. If you're unsure about any ingredients or menu items, please ask. We flag most priority allergens at the point-of-purchase, but it's still important that you take time to ask. Our culinary team can review ingredients and cooking methods with you. 
Educate those around you on how to recognize symptoms of an allergic reaction and what to do. This may include your Don, roommates, friends and others you interact with on a regular basis.
If you live in residence: 
Complete the Residence Accessibility Request form (if applicable) via MyHousing portal.
 Complete the Dietary Questionnaire as part of the Residence On-Boarding Process.
 Speak to your dining hall staff.